An authentic New York Style pizza, right here in Brown County, Indiana!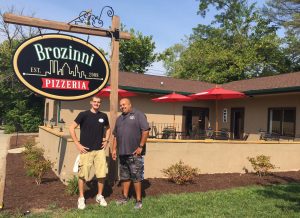 Pizza, Salads, Calzones & Garlic Knuckles
Serving a delicious pizza & calzones with our dough and sauces made in-house. Along with our fresh cut toppings and fresh shredded cheese, we know the importance of using only the finest ingredients. Our salads are the best in town! Made from a mixture of Green Leaf, Spinach, and Romaine Lettuces, that we clean and cut fresh daily.

Brozinni's serves our pizza by the HUGE slice every day from 11am until 4pm. But you of course can order off of our full menu all day. And you GOTTA try our "Almost World Famous" Garlic Knuckles! So stop in today and "Let The Food Do The Talkin!"
812-988-8800